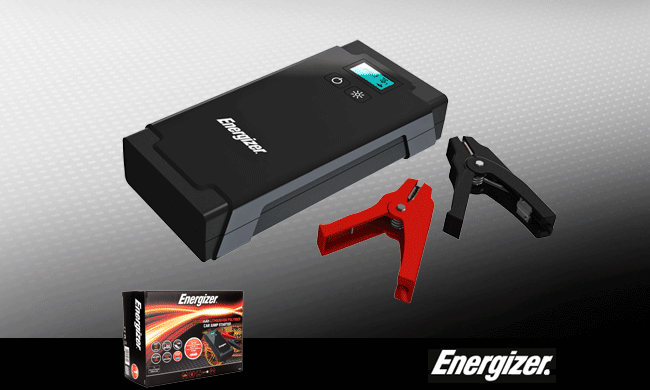 Start a Car with a Pocket Sized Jump Starter
---
12 Feb 2018
Category: Articles, Company News
Lithium-ion polymer battery technology has changed the landscape for portable power. Significantly more sophisticated than the traditional absorbent glass mat (AGM) technology, lithium-ion polymer technology has made it possible to jump-start a car with a pocket-sized device.
How Do Energizer Ensure Safety
With three lithium-ion polymer jump starters in range, Energizer® delivers portable power solutions based on the diverse needs of vehicles today. The high discharge models deliver strong cranking amps, extended cranking duration and multiple jumps per charge.
All lithium-ion polymer jump starters in Energizer's range place safety at top priority. The intelligent proprietary EC5 battery connector offers increased safety through the specially designed three-pin connector that can only be used with the Energizer® lithium-ion polymer jump starter.
It offers cross polarity protection, thermal cut-off, reverse charging guard and short circuit protection that are all essential in ensuring user-safety.
The jump starters also come with the added benefit of having a high intensity LED flashlight for low-light situations. They also come with a power bank functionality to charge smart devices such as smart phones and tablets via a 2.4A USB port (faster charging capability than a standard 1A port). By integrating cutting-edge battery technology, robust construction and various auxiliary features, the latest jump starters by Energizer® present themselves as an essential travel companion.
Energizer Jump Starter Range
The largest battery capacity in range (12,000mAh) weighs in at 400g, fits easily into the glove box and is capable of starting a 4.0L diesel/5.0L petrol car several times from a single charge. All jump starters come with fully insulated, spring-loaded clamps.
Energizer Jump Starters Available Exclusively at FPS
Energizer® lithium-ion polymer jump starters are exclusively available from FPS and can be found on the F:Drive under Maintenance > Car Battery > Jump Starters. For more information, please speak with your local FPS representative.