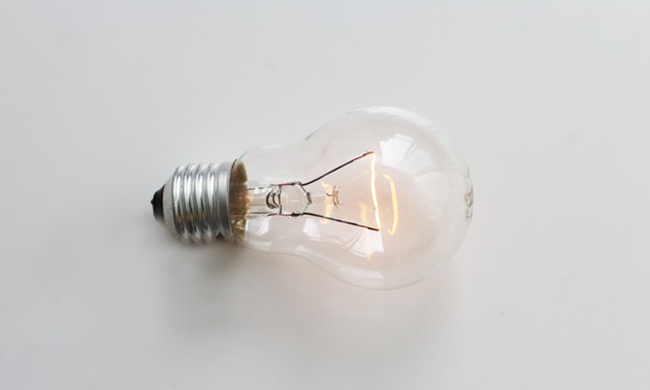 Your Complete Guide to Household Light Bulbs
---
08 Jan 2018
Category: Articles, Company News
Finding the right light bulb can be a confusing task, especially with the various types and varieties available. Fear not, consider yourself no longer in the dark! Our guide sheds some light on which bulbs are most suitable. This will help you to advise your customers on finding the right bulb for their appliance.
Let's Talk about Light Bulb Shapes
Household light bulbs come in all shapes and sizes – as you undoubtedly already know. We take a closer look at the range of light bulb shapes to help you understand your candles from your capsules, with the hope of dispelling any uncertainty around which bulb you will need for your customers.
GU10
Believe it or not, the classic GU10 is in fact one of the UK's biggest selling light bulbs. The GU10 is what is known as a small multifaceted reflector (MR) used commonly in spotlight fittings. The GU10 light bulb is technically an MR16 bulb with a GU10 base however it's more commonly referred to as a GU10 because of its base.
GLS
The household icon, the star, the trusty GLS light bulb. The GLS is a traditional bulb with a shape we are all likely to recognise. Also known as an A-Series bulb or the "classic" bulb type, this bulb can be found in a variety of household applications. From lamps to ceiling lights, it is likely you will be able to find a GLS bulb in a variety of light fixtures around your home.
Candle
Do you recognise this household hero? The Candle bulb is most commonly used in decorative light fittings due to its narrow shape. Also known as a C-Series bulb, whilst this conical light bulb shape may be narrow in shape, it still packs a mighty bright punch.
Round
The round light bulb type has been around for a long time, and long may it continue! It is mainly used for a variety of light appliances such as desk and floor lamps, and even some small wall lights. The round light bulb is also known as the G-Series bulb, or Golf Ball. You can probably see why its Golf Ball nickname stuck.
Reflectors
The reflector light bulb is another traditional bulb, however the reflector usually only comes in a screw-in variant. The reflector bulb is spotlight shaped and produces a directional beam of light. You will know if you need a reflector bulb if the bulb you are looking for has a code such as R50, R63 or R80.
Capsules
Capsule bulbs are known by their cap type rather than their shape. They have a distinctive pin type connector rather than the more widely recognised screw or bayonet type fitting. Capsules come in two varieties: The G4 Capsule bulb and the G9 Capsule bulb. The G4 is a smaller bulb with 2 pins, 4mm apart. The G4 runs on 12Vdc whereas the G9 operates on 240V with pins 9mm apart.
What's the Difference Between Bulb Cap Types?
Bulb cap types come in many different variations. The bulb caps are the parts of the bulb that make contact with the light fitting. You're probably aware of some, but just in case, we have listed the major cap types below to help set your bulb cap knowledge ablaze. Remember, bulb shape and cap types come in a variety of combinations, so it is worth noting the differences.
Bayonet Cap
Probably one of the most widely used bulb cap types, the dependable Bayonet cap is in many home appliances and fittings around the world. It's easy to spot a Bayonet cap as it features a pair of "locating lugs" around the 22mm base. Bayonets use the familiar push and twist action when fitting, so do remember to try that if unscrewing doesn't release the bulb. The Bayonet is also known as BC or B22d, so do bare that in mind when sourcing a replacement.
Small Bayonet Cap
No points for guessing what the Small Bayonet cap looks like, it is indeed a smaller version of the trusty Bayonet. The Small Bayonet is also known as SBC or B15d, but only 15mm across, instead of 22mm as seen in its bigger brother.
Edison Screw
The Edison Screw is used worldwide in a huge number of applications and appliances. The Edison Screw is a large threaded cap type which is also known as an ES or E27 cap. The diameter is a standard 27mm and is one of the widest mainstream bulb caps around.
Small Edison Screw
The little brother to the larger Edison Screw. The Small Edison Screw is a smaller and narrower version with a diameter of just 14mm wide. The Edison Screw is also known as SES or E14, and is commonly found in smaller desk lamps and compact light fittings.
GU10
The GU10 Cap works in a similar style to the solid Bayonet style cap, whereby the cap locks into place by twisting. The GU10 has a bevelled "U" shaped ceramic base boasting 2-pins, located 10mm apart.
G4
The durable G4 cap type is used on smaller capsule bulbs. The G4's "push-in" functionality makes this bulb a formidable force compared to other smaller bulbs. Due to its small size, the G4 operates on 12V with two pins spaced at 4mm.
G9
The G9 cap type is commonly used in smaller 230V capsule bulbs. It is similar to the G4, with its "push-in" functionality. However, the G9 is slightly larger than the G4 as its pins are over double the width apart at 9mm.
Let's Talk About Bulb Power
Bulb power can mean different things to different people so we are going to help clear up any uncertainty around what each various term means, so that you can set everyone aglow with your lighting knowledge! – We know what you're thinking, this is a delightful read, right?
What You Need to Know About Lumens
Lumens are how we measure the brightness of a bulb, it's usually denoted by "lm". Essentially a lumen is a measure of the total amount of visible light from light source. The greater the lumen rating, the brighter the bulb will be. It's a common misconception that wattage is a measure of brightness, when in actual fact wattage is a measure of power consumption and lumens is actually the measure of brightness.
What's the Difference in Lighting Technology?
Bulbs come in a number of different technology types, you've probably heard of most of them. The technology does vary slightly with household bulbs and vehicle bulbs. We're looking at household bulbs specifically in this article.
LED Light Bulbs
Light bulbs which are made of LEDs are completely different to other bulb types. LED stands for light-emitting diodes, essentially they use a semiconductor to create light, which happens when electrons move around the semiconductor. LEDs are very efficient at converting energy into light and often exuberate very little in the way of heat. You'll also be pleased to hear that they have great longevity, with a lifespan on average of around 25,000 hours.
Incandescent Light Bulbs
The retro Incandescent light bulb is one of the older types of bulb, which have become less popular over the years, owing to their energy efficiency leaving a lot to be desired. The Incandescent bulb heats a filament to an extreme temperature, resulting in a glow that leads to the appearance of visible light. The energy required to heat the bulb means a lot of energy is wasted in heat, this is why Incandescent bulbs are traditionally very inefficient.
Halogen Light Bulbs
The trusty halogen light bulb is 30% more efficient than Incandescent light bulbs. Halogen Bulbs use a tungsten filament encased in a small quartz envelope. The halogen gas within the bulb combines with the tungsten atoms as they evaporate and redeposits them on the filament. Thanks to this recycling process, the filament lasts much longer and as a result can last as long as 2000 hours.
Are You Stocking Household Bulbs for your Customers?
Make sure that you keep suitable volumes of each of these bulbs available in your store for customers, especially some of the most popular bulb types. The GU10, GLS and Candle bulb types are some of the most popular bulbs on our ecommerce platform; the F:Drive. Ensure you have volumes of both Bayonet and Edison Screw cap types in a variety of wattages.
To explore the entire range of household light bulbs, simply search "household bulbs" on the F:Drive.