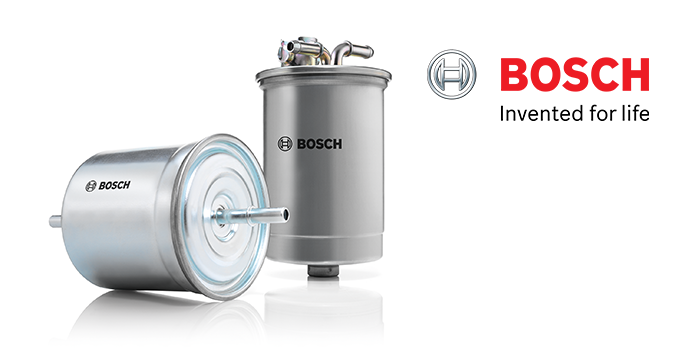 Bosch Fuel Filters – The Hero under the Hood
---
27 Feb 2019
Category: Articles, Company News
The fuel filter aims to protect the injection system and the engine against particles, water and other residues in the fuel. Demands on modern vehicles mean diesel fuel filters are required to remove particles smaller than 5 or even 2 microns depending on the vehicle manufacturer, and so the need for precise technology becomes evident.
Doing more for quality
Bosch offers approximately 95% market coverage, without sacrificing product quality over quantity. All functional and quality tests are performed to the same standards as OE parts, and every fuel filter is subject to a leak test performed with helium in a vacuum chamber.
They don't stop at high-quality materials and processes but also include optimised alignment of the filter specifications. These specifications influence one another and they must be exactly aligned in order to ensure outstanding filter performance.
The Bosch commitment to quality is evident in their 13 consecutive wins of Best Filter Brand, as voted for by readers of German automobile magazine "auto, motor und sport".
Change filters regularly
Fuel needs to be sufficiently filtered to prevent causing major issues with the fuel system down the line. Therefore, it's important for the fuel filter to be changed regularly to ensure the engine can perform to its best ability. While this tends to be between 30,000 and 40,000 miles, you should refer to the manufacturer's specifications.
Consequences of silted-up filter include:
Loss of engine power, even to the extent of an engine failing to restart
Impairment or interruption of the fuel supply
Impairment to the output of the fuel pump, even to the extent of a short-circuit
Increased wear
Internal corrosion of engine components
Expensive replacement or repair of components within the diesel fuel system
What else does Bosch offer
Excellent filter efficiency and reliable water separation due to multi-layered, microporous filter media.
High contaminant retention capacity and low flow resistance due to the large filter surface.
Moisture resistance and tensile strength with specially impregnated filter media
Protected against inner and outer leakage through high-quality manufacturing processes and use of leak resistant materials.
FPS stock almost 250 Bosch diesel fuel filters across the network, available for same/ next-day delivery. See the F:Drive, or speak to your local FPS representative for full details.