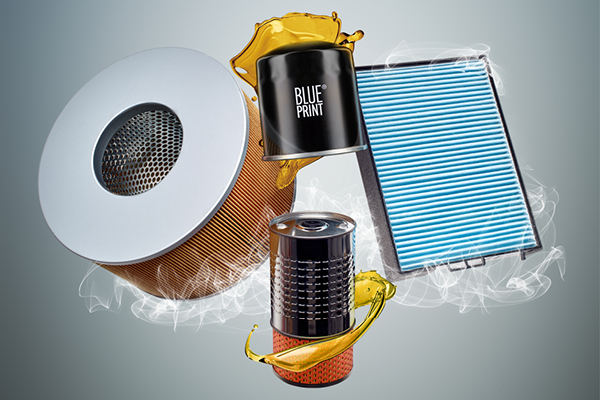 Blue Print's Expansive Filtration Range
---
16 Sep 2019
Category: Articles
With over 100,000 applications in range, Blue Print covers over 95% of the vehicle parc for filtration. New filtration components are regularly added to the range, covering not only Asian and American vehicle models but European too.
Blue Print's Considerable Collection
Blue Print has about 2,200 part numbers in its filtration portfolio including air, oil, cabin and fuel filters.
This substantial range includes:
Over 900 air filters with over 31,000 applications
Approximately 500 cabin filters with over 40,000 applications
Approximately 300 oil filters with over 32,000 applications
Over 450 fuel filters with over 27,000 applications
A few of the more unexpected references include:
The Function of a Filter
Each filter protects and preserves the internal components of the engine by supplying the necessary circulation of clean air and fluids.
Air filters remove particles from the air before they get into the engine, dealing with approximately 10,000 litres of air for every one litre of fuel burned. Cabin filters, also known as pollen filters, remove almost all airborne pollutants, including dust, pollens, and vehicle exhaust emissions, before they enter the passenger compartment.
The oil filter ensures the circulation of clean oil to prevent metal-to-metal contact of bearings and cam gear. The fuel filter prevents impurities in the fuel tank reaching and damaging injection components. They are manufactured to tolerances of just two microns and are put under massive loads.
Clogged, dirty or worn filters can cause damage to other components within different vehicle systems, so it is important to keep up with regular service intervals recommended by the manufacturer. Blue Print filters follow OE specifications, matching or even exceeding these standards.
Blue Print's Quality Guarantee
All Blue Print filters undergo regular and intensive quality checking to ensure a continued supply of high-quality products. Every filter has been specifically designed and manufactured to meet or exceed Original Equipment standards, meaning they can be fitted to any vehicle without invalidating the vehicle manufacturer's warranty.
Blue Print filters are available from FPS for same/ next-day delivery. Speak to your local FPS representative or check the F:Drive for full details.