ENHANCED PURCHASE ORDER UPLOADS
The purchase order upload function on the F:Drive makes placing large orders a breeze – and now we've made it even easier for you to use.
You can now upload purchase orders for an unlimited number of lines, to make bulk and repeat orders even simpler. We've improved the processing speed, so it's quicker than ever to upload files, and you can follow progress of the upload as it happens. Any errors or out of stock items are highlighted, so you have complete transparency of your order straight away.
Simply select your business name in the top navigation bar and select 'Upload Purchase Order' to get started, or access via the 'Order Options' menu on the Components homepage.
REACH FOR THE STARS
Selected ranges in our Maintenance & Accessories catalogue now benefit from a helpful star rating system, so you can see feedback from other users on a range of product features. Ranges currently include wiper blades, engine oils, air fresheners, spray paints, fuel additives and disposable gloves.
The ratings displayed will help to inform your buying decisions, and feedback will also provide valuable input into development of our product ranges.
For more information on specific product features, simply scroll down the product page to the Product Rating section (see below), where you can see ratings based on carefully selected criteria for each product.
It's easy to leave your own rating; share your experiences or pass on feedback from your customers by clicking the empty stars to rate, and make sure you add a comment giving the reasons for your selection.
Once a product has received a rating from a user, the overall star rating will appear on the search results page, and at the top of the product page (as shown below) for easy reference.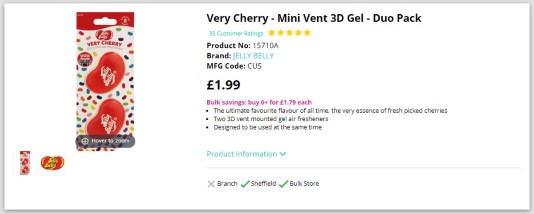 Only the star ratings submitted will appear on the F:Drive, but comments will be collated and reviewed by product marketing teams, to help inform the development of our ranges, to ensure we have the right products on offer to suit you.
Please contact our Customer Service team via the Feedback link on the F:Drive  if you have any questions about either of the above features.
MORE.
INFORMATION
FPS is one of the UK's leading providers of service-led supply chain solutions. Founded in 1934, and employing over 1,200 people, it operates from 23 sites in the UK. Acting as a distribution partner for a number of major brands, its core business is providing
automotive parts
,
car accessories and consumables
to the reseller network. Through recent expansion FPS now successfully provides
wholesale distribution
services in the Maintenance & Accessories sector, serving a number of blue-chip companies. Dedicated to service excellence and innovation, the company offers a wide range of services meeting the varying needs of manufacturers, suppliers, resellers and business consumers across the supply chain. For further details go to http://www.fpsdistribution.com/pr-corner/ or contact comms@fpsdistribution.co.uk