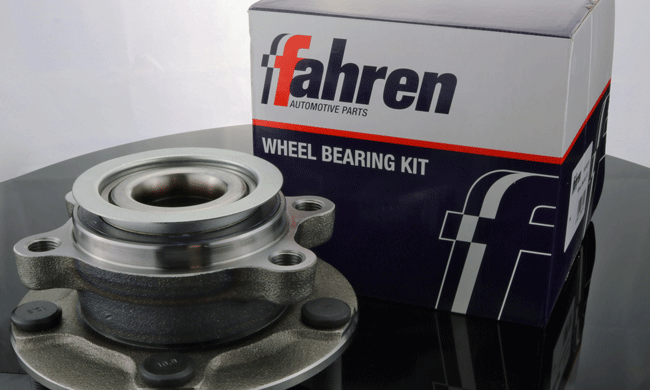 Wheel Bearing Replacement Tips from Fahren
---
11 Jan 2018
Category: Articles, Company News
SIGNS OF A FAILING WHEEL BEARING
There are several symptoms that indicate a failing WBK. The most common symptoms include:
Grinding or knocking sounds (at low speed)
Whining sounds (at high speed)
Uneven tyre wear
Shuddering or vibrations at constant speed
These symptoms are likely to surface as a result of poor installation, damage from an accident or a damaged wheel bearing seal. A damaged seal allows moisture and debris to enter the bearing, leading to failure over time.
WHEEL BEARING REPLACEMENT ADVICE
Fahren recommends that the following guidelines be observed to help ensure proper replacement:
Work with clean tools in clean surroundings
Always choose the correct grease
Follow the correct installation procedure as advised by the vehicle manufacturers.
Be sure to check the condition of the housing and axle when changing wheel bearings. Even the smallest wear will lead to misalignment, resulting in premature failure.
Be mindful to check the contact surface for the seal lip. The smallest mark or rust can damage the seal lip, allowing water penetration and eventual corrosion.
Hub unit clearances are already set at the factory with the correct preload – never attempt to set clearances on hub units. However, the installer can tighten the nut to the correct preload as advised by the workshop manual.
Most importantly, never attempt to take a hub unit apart before mounting. This will damage the raceways and seals, destroying the bearings that will lead to failure.
NEW TO RANGE FROM FAHREN
Fahren continually develops their specific ranges to reflect the ever-evolving demands of the UK aftermarket. By continuing their efforts to offer a diverse range of competitively priced, fast-moving components, Fahren presents strong opportunities within its product range.
In 2017, Fahren bolstered their offering with new-to-range references added to their portfolio. For example, their established wheel bearing kit (WBK) range that currently stands at more than 120 references had more than 40 new references added at the end of 2017.
UNCOMPROMISED QUALITY
While offering the aftermarket with cost-effective replacement solutions, Fahren strives to stay true to their standard in uncompromised quality. As with the other components in the Fahren portfolio, WBKs are subjected to intense scrutiny in pre-tests to ensure that they meet the highest recognised quality standards.
Fahren takes extensive measures to ensure that their WBKs adhere to strict quality guidelines. These include ensuring that the exacting dimensions of the inner and outer rings, axial clearance, material hardness, rust, end-runout and magnetic field checks all match OE specifications.
SUPPORT FOR PROPER INSTALLATION
To help ensure that users perform a proper installation, Fahren has a dedicated support team that can be reached via technical helpline (03333 136 591) or email (technical@fahren-auto.com).
A GROWING & DIVERSE PORTFOLIO
Fahren's extensive portfolio of more than 1,000 parts also include steering & suspension components, brake pads & shoes, water pumps and ignition coils. With the portfolio consistently reinforced with fast moving, competitively priced components, Fahren does not compromise on quality, safety and aftersales service.
Steering and Suspension
Steering and suspension faults account for a significant portion of MOT tests. As the main season approaches, the Fahren range of over 575 steering and suspension parts is well placed to support any increased distress demand.
Fahren's steering & suspension range includes rack ends, ball joints, suspension arms, stabilisers, and tie rod ends. They are subjected to stringent safety checks during assembly to assess their tension and compression, hardness, weld penetration, porosity and paint or Cataphoresis coating penetration.
Water Pumps
Water pump failure can be attributed to various factors including a defective pulley, broken engine mount or incorrect drive belt tension. To help ensure that their water pumps stand up to the task, Fahren goes to lengths to ensure that the bearings, pulleys and seals meet the exacting standards set by the OE counterparts. Each pump is tested against actual engines and endurance tested.
Ignition Coils
Fahren's short range of fast-selling ignition coils is regularly reviewed to reflect the changing needs of the aftermarket. Also competitively priced, Fahren coils are thermal, shock and endurance tested to ensure that they perform optimally when installed.
Braking
Fahren braking caters for more than 5,000 fast-moving applications that are regularly updated to match the changing needs of the aftermarket. Recognising the safety critical aspect of the component,
Fahren ensures that all braking parts are manufactured in accordance to ECE R90 regulations.All Fahren components come with a 12-month/12,000-mile warranty (whichever comes first). Fully catalogued on the F:Drive and MAM Autocat, Fahren components are available from FPS via same/next-day delivery. Speak to your local FPS representative for more information.