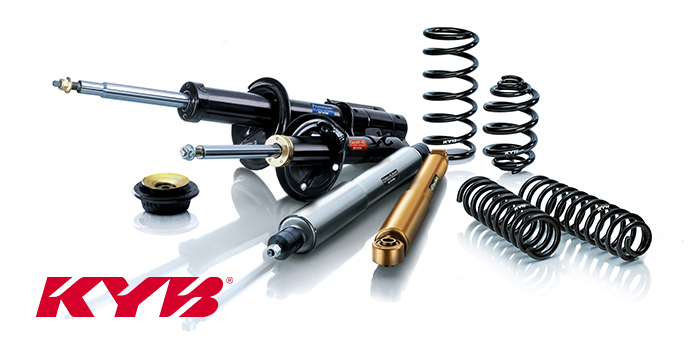 What's New From KYB
---
09 Jul 2019
Category: Articles, Product News
KYB are constantly expanding their range to ensure they serve all customer needs. They've recently added 73 new references including a selection of shock absorbers, coil springs, suspension mounting kits and shock absorber protection kits.
Highlights include:
• RA5049 – Rear Coil Spring for Mazda CX5 2.2 (2012-18)
• SM9925 – Rear Suspension Mounting Kit for VW Golf 1.6 (2016>)
• 3348027 – Front Shock Absorber for BMW 3 Series 2.0 (2015>)
• 910277 – Shock Absorber Protection Kit for Vauxhall Corsa 1.4 (2014>)
Shock Absorber Protection Kits
Protection kits are designed to prolong the life of the shock absorber by preventing dust and moisture from damaging the piston rod and shock absorber seal. They also protect the piston rod from corrosion and damage from stones and road pollution while the bump stop limits the suspension travel in the compression phase.
Replacing the protection kit offers multiple benefits alongside improved road handling. Changing it will save the customer money by increasing the lifespan of the shock absorber and coil spring. Furthermore, it won't take up additional labour time if it's changed at the same time as the shock absorber since KYB kits are easy to fit.
Suspension Mounting Kits
Suspension mounting kits are vital in linking the shock absorbers to the vehicle chassis. They aim to reduce road noise and vibrations as well as improve vehicle ride and control. Like the shock absorber protection kits, suspension mounting kits should also be replaced at the same time as the shock absorbers, or when steering becomes hard or noisy.
KYB offers the most comprehensive range of suspension mounting kits in Europe, which come complete with all necessary components, including bearings where needed.
Available from FPS
As one of the world's largest suppliers of OE shock absorbers to vehicle manufacturers, all KYB components are made to the highest quality. Following these latest additions, KYB now has over 7,350 active part numbers across all of their product groups. These are all available to purchase via the F:Drive and MAM Autocat. Speak to your local FPS representative for more information.