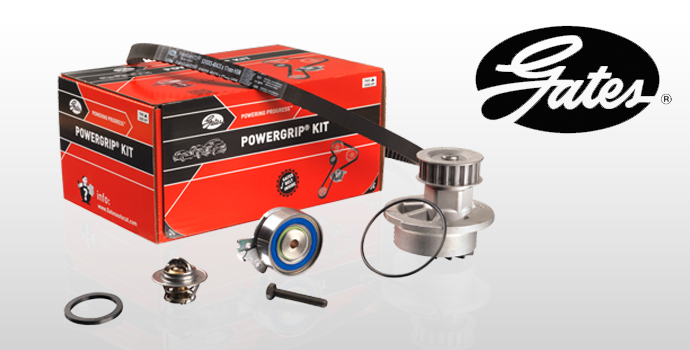 Water Pump Failure: Causes and Prevention Tips from Gates
---
16 Aug 2016
Category: Articles, Company News
Various factors other than just the quality of the water pump can cause its failure and offers an exhaustive note on the root causes and corrective measures. The average water pump handles 1.7m litres of coolant in 4 years/ 60,000 miles. If it fails sooner and is replaced without proper investigation, the new pump is likely to have an even shorter lifespan.
Correct diagnosis before replacement is important to avoid more problems in the future. Most warranty returns are due to errors in the installation process. In fact, a faulty mechanical seal as a result of installation error is the most common cause of premature water pump failure.
Other common failure factors include:-
Dry Operation of the Water Pump
To keep the pump's rotating seal faces from overheating and failing, the mechanical seal must be constantly lubricated by a coolant. Dry running – even for a few seconds – can ruin the seal, causing coolant leakage.
Solution
A new water pump should never be checked for free rotation when dry. It should be put in a coolant-filled reservoir before fitment or, run by hand a few times after coolant refill and before starting the engine.
Improper Use of Seals/Gaskets or Sealant
This can cause an improper seating of the water pump or even damage some sensitive components such as seals, leading to coolant leakage.
Solution
Old gaskets and seals should be replaced by new ones and sealant should only be applied if recommended by the manufacturer.
Gates provides gaskets as part of the kit, where required. Sealants should not be applied on pumps with gaskets or seals. Too much sealant compromises the correct installation and will break off within the cooling circuit and contaminate it, so correct usage, where needed is recommended.
Unsuitable Coolant
Using a contaminated, incompatible coolant or mixing different formulations leads to premature water pump failure. Contaminants (e.g. abrasive particles and engine oil) scratch the internal mechanical seal or affect the pump's wear resistance.
Meanwhile, unsuitable coolants do not offer the required protection, destroying individual components.
Solution
When replacing the pump, the existing coolant should be completely drained out and the cooling circuit flushed thoroughly. The new coolant should always be used according to vehicle manufacturer's recommendations.
D
efective/Improperly Installed Belt Drive Components
A worn or improperly installed belt or tensioner will cause the water pump to seize prematurely and vice versa.
Solution
Changing the belt drive and water pump simultaneously.
Using an all-in-one kit optimises the lifetime of both. Fitting instructions, tensioning procedure and torque specifications from the manufacturer need to be followed carefully.
N.B. When a water pump is new, it takes some time for the mechanical seal to properly seat itself (break-in period) and shouldn't be a cause for concern if you experience a little bit of coolant around the weep hole.
Why Choose Gates?
Gates is a market-leading manufacturer and supplier of water pump kits and power transmission belts. Offering complete aftermarket solutions, Gates also provides tech tips, product and tool information, as well as installation guidelines via its technical information resource portal, GatesTechZone.com.
Gates offers a comprehensive range of water pump kits for both timing belts and more recently, auxiliary belt drive systems. Comprising more than 260 references, with further range extensions in the pipeline, each Gates PowerGrip® or Micro-V® water pump kit can easily be sourced with OE-matched parts to ensure all components work perfectly together.
All Gates water pump kits are available across FPS' extensive distribution network on same/next-day basis. For more information, speak to your local Gates or FPS representative.