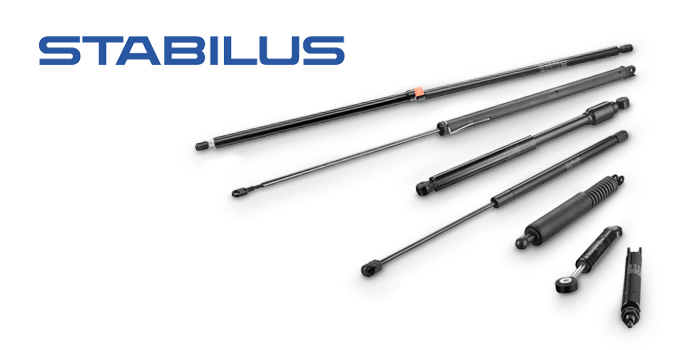 Stabilus – Springing into an FPS near you
---
27 Feb 2019
Category: Articles, Company News
With over eight decades of experience in the automotive industry, Stabilus is one of the world's leading providers of gas springs and damping solutions; a status they gained through developing a comprehensive range of quality parts.
A Global Operation
Since being founded in Koblenz, Germany in 1934, Stabilus have been on a mission to establish themselves as pioneers that produce more than 100 million units worldwide every year. They pride themselves on their reputation for technical innovation, quality, and competitive pricing at all levels by focusing on customer requirements and satisfaction.
Committed to High Standards
With a global reputation to uphold, Stabilus ensure a focus on product quality. Each product fulfils international quality standards, such as DIN EN ISO 9001 and the new world standard ISO/TS 16949 including the requirements as per QS 9000, VDA 6.1, EAQF and AVSQ.
An emphasis is also placed on environmentally friendly manufacturing, and the company's success documented by the successful certification of the environment management system in compliance with DIN EN ISO 14001.
The Stabilus Range
FPS readily stocks 700 of the most popular part numbers available from the Stabilus range that consists of 2,000 part numbers in total. Special orders can be made through FPS for any non-stocked lines.
Stabilus non-blocking (Lift-O-Mat) springs are mainly used on bonnets, boot lids, and tailgates to make opening and closing safe and easy. Dampers improve comfort and safety and can be typically found in seat adjustment and headrests. They're also utilised for vibration dampening when used as steering dampening to improve smooth running, and again aide comfort and safety. The Stabilus Stab-O-Shoc range of dampers are designed to exact OE requirements, and built to be maintenance-free.
Available from FPS
The Stabilus parts available from FPS for same/next-day delivery cover 97% of the UK pareto. All Stabilus parts match OE specifications, are made for easy installation, and come with a 2 year unlimited mileage warranty. Speak to your local FPS representative or check the F:Drive for more details.