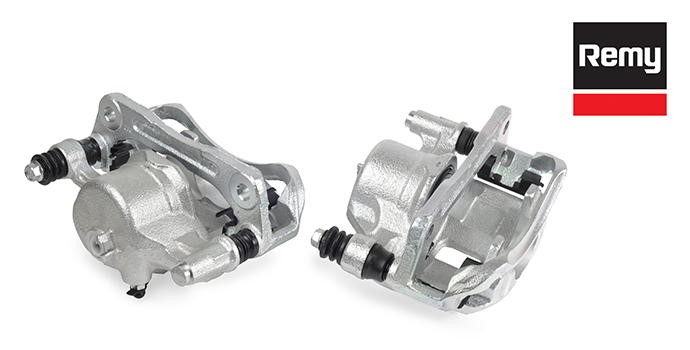 Remanufactured Brake Calipers – As good as new
---
27 Feb 2019
Category: Articles, Company News
Remy remanufactured brake calipers are considerably less expensive than their brand new OEM counterparts, but meet the same superior specifications, quality requirements and perfect fit that end users expect from safety-critical parts.
A More Environmentally Friendly Option
The use of remanufactured products is not only an affordable choice, but they also save valuable natural resources and help to protect the environment.
Their quality certainly isn't lacking though. All wearing parts are replaced 100% with OE quality components, meaning that Remy's way of remanufacturing is very different to repair or reuse.
Remy's remanufacturing process is highly standardised and fully documented. It involves core management, core sorting, dismantling, cleaning, replacement and reworking components, assembly of components and a final end of line test for each individual remanufactured caliper. This process requires less energy than manufacturing new and because certain parts are reused, less natural resources need to be consumed. Additionally, remanufacturing ensures that products are kept out of the waste stream for longer periods of time.
Guaranteed Quality and Availability
With over 3,500 calipers for nearly all European, Japanese and Korean cars, including EPB and coloured calipers, Remy produces one of the widest ranges of brake calipers in Europe.
Remy never compromises on quality standards; in fact, to achieve and maintain the best quality standards, Remy uses the engineering and product expertise of its parent company Brake Parts Inc. BPI has a state-of-the-art research and development centre for brake products in the USA.
Remy remanufactured brake calipers are suitable for all weather conditions and will always fit perfectly and perform at least as well as the original parts; a claim Remy backs up with a 24-month guarantee.
Everything You Need to Fit
All Remy remanufactured brake calipers come fully assembled with new pistons and seals and are supplied with a fitting kit. All components have been tested and validated, ensuring the calipers are safe and reliable. As part of a comprehensive validation process, every Remy brake caliper is tested under high and low pressure during realistic endurance tests. This makes the Remy reman brake caliper product range an attractive alternative to buying new, especially as they are remanufactured to match OE specifications.
Remy remanufactured brake calipers are available from FPS for same/next-day delivery with a 2-year warranty. For more information on the Remy range or remanufacturing, speak to your local FPS representative, or view the range on the F:Drive.