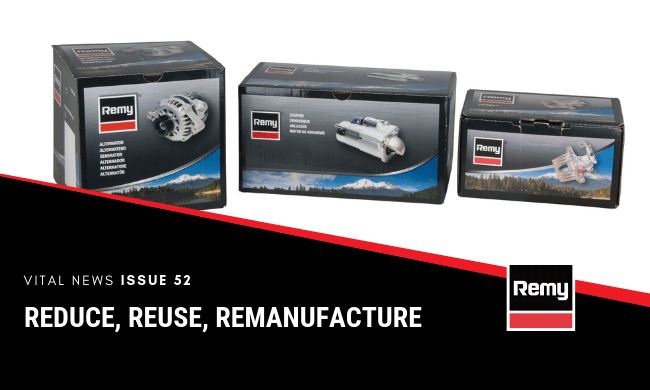 Reduce, Reuse, Remanufacture
---
26 Nov 2018
Category: Articles, Company News
Remy Electric Co. was founded in 1896 and the American company was the first to introduce the electric starter in 1912. Today, the organization has one of the largest automotive aftermarket product portfolios with new and remanufactured rotating electrical parts for passenger cars and commercial vehicles. Remy tells Vital News about their new lease of life after consolidating with Brake Parts Inc (BPI) in 2016.
A LITTLE BIT OF HISTORY
BPI has its roots in the iconic Raybestos brand which was founded in 1902 and like Remy, enjoys a lot of success in the United States. At the end of 2016, Remy was acquired by BPI's shareholder, a US based venture capitalist who recognised the move as an excellent opportunity.
Aftermarket activities of Remy and Brake Parts Inc. in Europe will be consolidated and the new entity, BPI Group Europe, is committed to further growth in Europe and the Middle East under the well-known Remy brand name.
A PORTFOLIO TO BE PROUD OF
Remy's heritage lies in starters and alternators which continue to be the core product sold under the Remy Reman brand name. With over 3,500 parts to cover approximately 95% of the UK vehicle parc, Remy has one of the widest ranges of remanufactured starters and alternators on offer.
The strictly controlled remanufacturing process and the use of OE equivalent components ensure that Remy Reman products are the same high quality level as an OE part.
A GREENER ALTERNATIVE
Remanufacturing is an important pillar of BPI's corporate strategy as it supports their commitment to the environment. The implications of the remanufacturing operation as a greener and more sustainable alternative to producing new parts are multifaceted. The process requires less energy and because certain parts are reused, less natural resources need to be consumed. Additionally, remanufacturing also ensures that products are kept out of the waste stream for longer periods of time.
In addition to reducing Remy's environmental impact, it also means that they're able to supply a range that covers all UK market needs from brand new applications to the tail end applications of the range.
WINNERS ALL ROUND
Remanufactured items provide an excellent opportunity for the motor factor to offer the garage a quality and more economical replacement part while retaining a healthy margin. This premium level of quality is supported by a 3-year product warranty – the longest rotating electrics remanufacturer warranty offered in the UK.
FPS' core surcharge scheme features efficient collection and crediting to minimise the inconvenience to both the motor factor and garage. FPS stocks all Remy Remanufactured rotating electrical parts with 95% of the pareto available for same day delivery within the UK. For more information on the full range of remanufactured parts available through FPS, speak to your local representative.