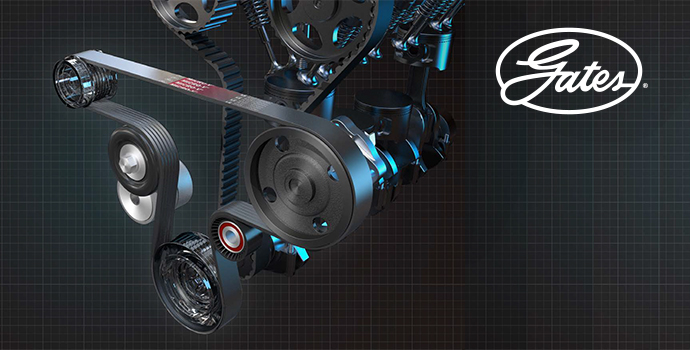 Progress Powered by Gates' Belt in Oil
---
18 Apr 2019
Category: Articles, Company News
Since the automotive Belt in Oil was first installed in the Ford Lynx 1.8L diesel back in 2008, Ford has established a legacy they've continued through their partnership with Gates. Belt in Oil technology has been gradually filtering its way into the automotive aftermarket, increasing demand for an aftermarket solution which Gates is also able to provide.
The Advantages
Belt in Oil (BIO) is one of the technologies used that helps engine and car manufacturers overcome their emission reduction challenges since it offers benefits that are unmatched by standard chain drive solutions. The BIO system is built into the engine and in direct contact with engine oil, which reduces friction, resulting in more efficient running. The Gates BIO system is designed to deliver numerous benefits including improved fuel economy, reduced CO2 emissions, lighter weight, better reliability, and lower system noise when compared to traditional chain driven components.
Gates Offering
Gates aftermarket BIO belts are manufactured to the same technological and quality standards as Gates OE BIO belts. Every Gates BIO comes with innovative design features to achieve the best possible performance.
Gates is the only supplier in the industry with the capability to engineer, manufacture, deliver, and support a fully-integrated timing belt drive solution to automotive OE manufacturers on a global scale.
FPS Offering
FPS has introduced a competitive offering of Gates BIO belts for the aftermarket. This includes three oil pump belts as well as two camshaft belts. These belts are competitively priced and cover more than 12 million vehicles in operation for both Ford and the VAG group (Volkswagen, Audi, Seat, and Skoda), an ideal opportunity for workshops to win BIO repair business from OE networks.
Highlights include:
T357HOB – Oil Pump Belt for Ford Fiesta 1.0 (2013>)
T351HOB – Oil Pump Belt for VW Golf 1.6 (2012>)
T354HOB – Camshaft Belt for Ford Focus 1.0 (2012>)
T359HOB – Camshaft Belt for Ford Focus 1.0 EcoBoost (2012>)
The full range can be found on the F:Drive, or speak to your local FPS representative for further information.