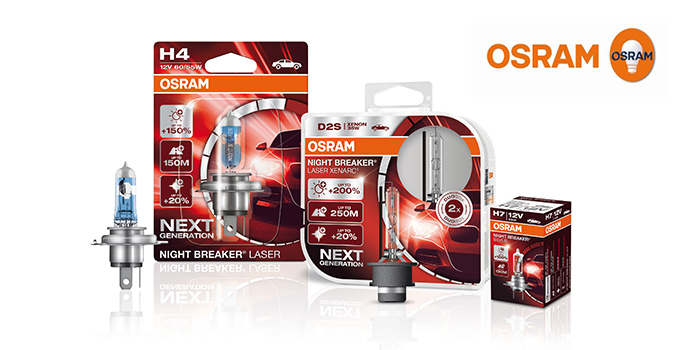 OSRAM Night Breaker – The superhero lightbulb?
---
25 Jan 2019
Category: Articles, Company News
Osram's new selection of Night Breaker performance upgrade bulbs – Night Breaker Silver, Night Breaker Laser, and Xenarc Night Breaker Laser, all emit an enormous amount of light to improve driver visibility and road safety. Made in Germany and the US, these premium quality bulbs exceed all ECE minimum standards.
Night Breaker Silver
The new Night Breaker Silver offers impressive output coupled with an above average lifespan. The bulb shines up to 100% more brightness* on the road ahead with a range of up to 130 metres for much better visibility. These automotive lamps have a convincing price-performance ratio and a modern design, making them ideal for drivers who place high demands on both performance and lifetime. Night Breaker Silver is available from FPS in H1, H4, H7 and H11 ECE types.
Night Breaker Laser
Night Breaker Laser is the first upgrade bulb on the market to use the innovative manufacturing technique of laser coating removal. This results in better performance, a light beam that is up to 150 metres long and a unique design with a laser-engraved product name. The Night Breaker Laser next generation produces up to 150% more brightness* than the legal minimum required, and comes in H1, H3, H4, H7, H8, H11, HB3 and HB4 ECE types.
*Halogen (150%/100%): Compared to minimum ECE R112 requirements
Xenarc Night Breaker Laser
Up to 200% brighter** than the legal minimum requirement, the Xenarc Night Breaker Laser is the top performance HID (Xenon), setting new visibility standards thanks to optimised light distribution. Not only are these bulb brighter, they produce a light up to 20% whiter and a light beam that extends up to 250 metres. This important safety aspect is particularly useful for motorists with poor night vision, which cannot normally be fully addressed by glasses or contact lenses. The brightest HID (Xenon) bulb is available in D1S, D2S, D3S and D4S ECE types.
** Xenon (200%): Compared to minimum ECE R98 requirements
At an FPS near you
With an initial offering of 27 Night Breaker bulbs, FPS also stocks an extensive selection of over 300 Osram bulbs available for same/ next-day delivery via the F:Drive. For more information, please contact your local FPS representative.