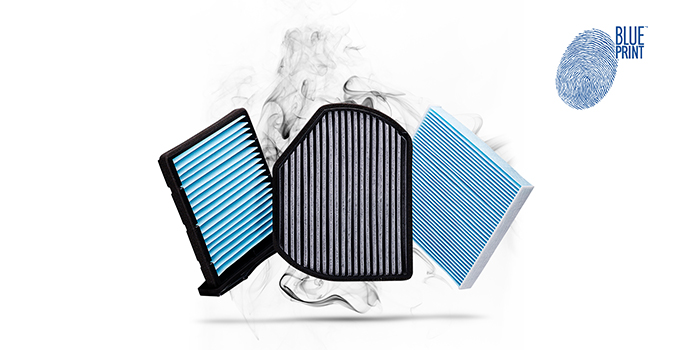 More Than Comfort – Change the Cabin Filter
---
09 Jul 2019
Category: Articles, Product News
The cabin filter is often overlooked during regular servicing as many are unaware of the benefits it can provide. Whilst it has no effect on a vehicle's engine or reliability, it plays an important role in protecting the driver and occupants from harmful air pollution.
Driving through traffic can expose motorists and their passengers to contaminants like dust, soot, pollen, bacteria, viruses, and noxious fumes. The UK Met Office estimates that 1 in 5 across the UK suffer from hay fever symptoms today. A properly installed, quality cabin filter shields against pollutants and allergens, reducing the ill-effects of emission related health issues and allergic reactions.
ONE SECOND MAKES A HUGE DISTANCE
An average sneeze will cause people to close their eyes for about one second. Driving in that one second at 70mph, the driver would have travelled blind for over 100 feet!
THE BENEFITS OF TIMELY AND CORRECT REPLACEMENT
All cabin filters have a finite capacity. This means that they should be replaced regularly (annually) for the best protection. A clean filter ensures cleaner air is filtered into the cabin, slowing the formation of a dirt film inside the windscreen, and even allow for faster de-misting.
Some cabin filters can be difficult to install due to poor access as a result of space constraints and obstructions. However, it is important to fit the cabin filter properly. A poorly installed, 'scrunched-up' cabin filter will not perform to its best ability as it can still leave air to enter the cabin unfiltered.
WHY FILTRATION WORKS
The quality of filtration media determines its efficacy in removing contaminant particles. The advancement in filtration technology today means that not all filters are made equal.
Blue Print's cabin filters are designed to match the factory-fitted specification and use a combination of some, or all, of the following technologies to achieve optimal filtration. The filter media is made of a non-woven synthetic fibre which uses advanced melt-blown technology to give it form and strength.
Electrostatics
Particles between 0.3 and 0.9 microns pose a great risk to health as these particles bypass the human body's natural defences. For cabin filters to capture these particles, the electrostatic charge that is generated when air passes over filter fibres attracts particles as small as 0.3 microns. This includes bacteria and diesel soot nanoparticles.
Activated Carbon
Cabin filters with activated carbon embedded in the filter media can trap noxious engine emission gases such as nitrogen dioxide (NOx). One gram of activated carbon has a surface area of over 1,000m2 and is the main active component of gas masks.
QUALITY FROM BLUE PRINT
Every Blue Print cabin filter utilises OE-matched technology and is manufactured to the same exacting standards to guarantee a perfect fit. They can be fitted to any vehicle without invalidating the VM's warranty. Available from FPS via same/next-day delivery, speak to your local representative for more information.