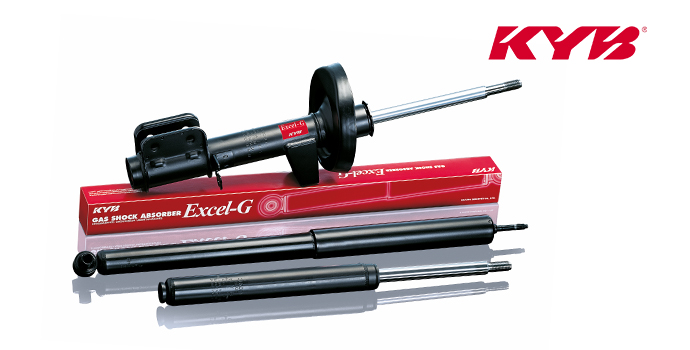 KYB Matches Market Demand Again
---
09 Jul 2019
Category: Articles, Product News
The KYB shock absorber (part no. 3448024) fits a wide variety of applications, including the popular models listed below, and so is set to become a leading seller.
Model Highlights include:
• Audi A3 III (2012>)
• Seat Leon III (2012>)
• Skoda Octavia (2013>)
• Volkswagen Golf VII (2012>)
The part is an Excel-G twin tube gas top pin bottom eye design. The Excel-G is suitable for direct OE replacement or as an upgrade from the KYB Premium range. KYB's patented valving and the use of pressurised nitrogen gas in the Excel-G range restores riding comfort and, at the same time, dramatically reduces the aeration or foaming that can occur in other shock absorbers.
The mounting kit associated with part 3448024 is KYB component SM9925, which FPS also stocks.
Trouble Shooting Tips
Since the suspension system is so interconnected, issues with any of the components can display similar symptoms. Therefore, it's important that all elements are examined if there are problems with the suspension. Basic signs of suspension issues include the car pulling, bouncing, or sitting low.
1. Car pulling – could be an indicator of uneven tyre pressure or tyre wear, poor alignment, bad tie rods or steering rack.
2. Car bouncing – excessive bouncing and feeling every bump in the road can be a sign of worn shocks, struts or leaf springs.
3. Car sitting low – one corner sitting lower than the rest is likely a damaged spring. A damaged shock won't have a direct impact on the vehicle height, but could cause an over-compression of the spring and thus a lower sitting height.
Once the issue has been identified as worn shock absorbers, they should always be replaced in pairs to ensure equal wear. KYB recommends checking shock absorbers every 20,000km and replacing them after 80,000km.
The KYB Range
KYB offers a 2-year unlimited mileage warranty from date of fitment. With over 3,400 gas and oil shock absorbers in range, FPS has access to the full range of KYB products with the most popular parts available for same/next-day delivery. KYB also offer a wide range of quality coil springs, protection kits and suspension mounting kits.
View the full range on the F:Drive or contact your local representative for more information.