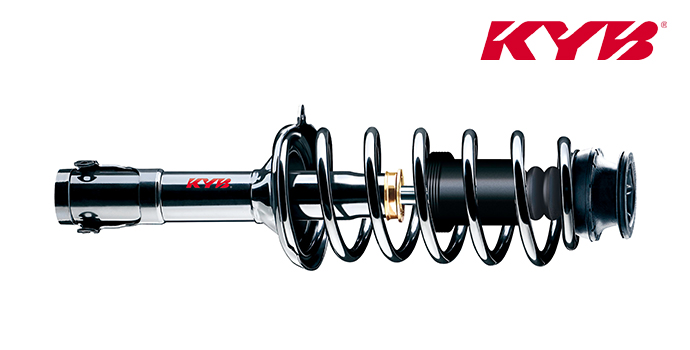 KYB Launches More Coil Springs
---
05 May 2019
Category: Articles, Company News
KYB is constantly developing their range of products and launched 69 new coil springs in early 2019, bringing their coil spring selection to over 3,000 active references. There are also over 100 parts in development to be launched by the end of quarter two of 2019.
Recent Highlights Include
RA5072 – Coil Spring Rear for Mitsubishi Outlander 2.2 (2012-19)
RA5126 – Coil Spring Rear for Ford B-Max 1.6 (2012-18)
RA1062 – Coil Spring Front for Nissan NV200 1.5 (2013>)
RA5028 – Coil Spring Rear for Mercedes A Class 1.5 (2015-18)
RA5133 – Coil Spring Rear for BMW 5 Series 2.0 (2011-17)
Designs Available
KYB produces several types of coil spring, including:
Taper Wire (RJ) – OE design. Tapered wire at each end to provide progressive compression.
Constant Wire (RX) – Aftermarket design. Constant wire diameter from top to bottom.
Side Load (Banana) – Curved design but will straighten under the weight of the vehicle.
Remember to Check
Coil springs support a vehicle's weight and absorb the impact of road conditions. Given their positioning, and exposure to road debris, coil springs should be regularly checked, especially in the winter months.
Why Should Coil Springs be Changed?
To return the vehicle to the correct ride height
To maintain tyre contact with the road surface
To improve wheel alignment
To save money by increasing shock absorber life
Did You Know?
The high-quality precision engineering demanded by the world's vehicle manufacturers is matched by KYB's desire to provide a comprehensive range to the UK market. Having been at the forefront of automotive suspension for over 80 years, KYB is the UK market-leading supplier of shock absorbers, with 1 in 5 vehicles being fitted with KYB shocks as OE. KYB also supply both protection kits and suspension mounting kits.
98% of the KYB pareto is available to FPS customers via MAM Autocat or the F:Drive for same/ next-day delivery. Speak to your local FPS representative for more information.