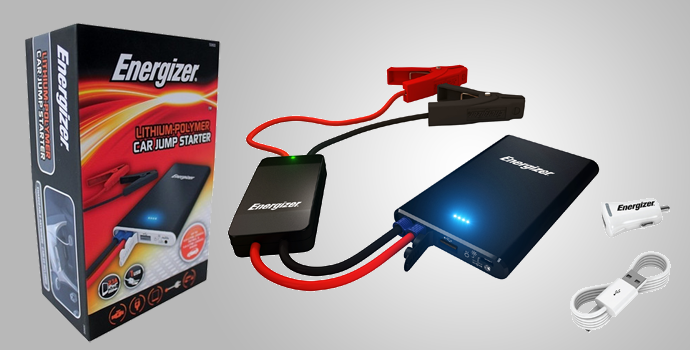 The New Energizer Jump Starter could be a Life Saver!
---
10 Mar 2016
Category: Articles, Company News
Weighing in at less than 300 grams, the super compact Energizer Jump Starter Powerbank (FPS part no. 50800B) is a device that offers lithium-ion polymer technology and high portability. The product is small enough to be stored in a glove box, ready to assist in an emergency.
The 5600mAh Li-polymer battery enables a user to start a 1.6L diesel/2.0L petrol car several times from a single charge. It can then be recharged from a 12V vehicle socket or via USB. The intelligent battery connector incorporates a cross-polarity safety function and protection against short circuiting. A life saver in more ways then one, the product also has a 2.1A USB port, suitable for charging most portable electronic devices such as smartphones and tablets.
Dimensions: L 13.75 x W 8.25 x H 1.5cm
Starting current: 150A
Peak current: 300A
Operating temperature: -20C to +60C
DC charge input: 5V/1A
Rated USB output: 5V/max. 2.1A (phones and tablets)
It is a low maintenance, reliable solution that makes for a unique on-shelf display and a great selling opportunity. The product launch is backed by ongoing campaign activities and marketing support. This includes an A4 Till Presenter available from us, as well as a demo video. Two additional Jump Starter Powerbanks will also be launched later in 2016, a 7500mAh and an 11100mAh version.
There are many fundamental aspects which could suffer if a sudden surge or spike in energy runs through the car during the jump starting process. It is therefore beneficial to use reliable jump leads to avoid any potential damage to the parts and electrical circuitry of the vehicle. All Energizer jump leads are made from copper clad aluminium cables and PVC insulation. The fully insulated, spring loaded and colour coded clamps also provide added user safety. Moreover, the clamps now have a patented high conductive technology (HTC) cable design inside the jaws which transfers the electric current more effectively and efficiently between the two batteries.
Energizer continues to offer its successful range of jump leads with 6 products, from standard jump leads to heavy duty options and LED jump leads that allow easy connection in the dark. These cater for both petrol (up to 5.0L) and diesel (up to 3.5L) engines (see table below).
Energizer has been a popular and successful brand since 1896 when it produced the first consumer battery. Already available in more than 150 countries, a range of Energizer products are now available from us in the UK. With assured next-day delivery and 1-year warranty on all products, the initial portfolio comprised 12/24V adaptors, inverters and a select range of jump leads.
All Energizer products are catalogued on the F:Drive in the Maintenance & Accessories section – speak to your local representative for further details on the range.