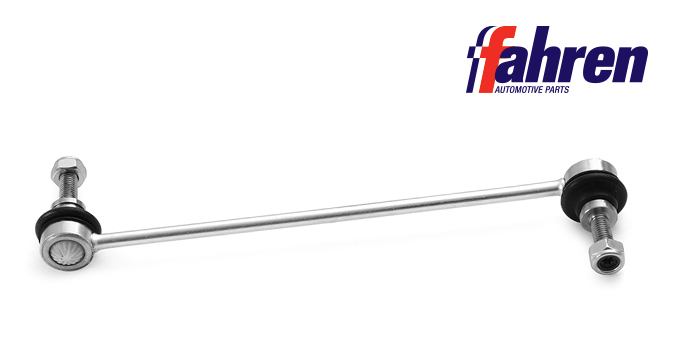 Fahren Expands Steering and Suspension Range
---
09 Jul 2019
Category: Articles, Product News
Fahren has introduced 67 new parts to their steering and suspension portfolio, bringing the total number in the range to over 600. This comprises 12 ball joints, 31 stabiliser links, 3 control arms, 17 tie rod ends, and 4 wishbones.
New Parts
Key applications include:
FAS4152 – Stabiliser Link (Front LH/RH) for Renault Scenic 1.5 (2009>)
FAS4139 – Stabiliser Link (Front LH/RH) for Land Rover Range Rover 4.4 (2010-12)
FAS4154 – Stabiliser Link (Front LH/RH) for KIA Sportage 1.7 (2010-15)
Look Out For
Over time, fatigue will take effect and the stabiliser links will weaken. As the stabiliser links affect road holding, drivers should be wary of poor handling or unusual noises. These signs should not be overlooked as broken stabiliser links could lead to a loss of control. It's strongly recommended that stabiliser links are always replaced in pairs to ensure they wear at the same rate.
Symptoms of worn stabiliser links include:
Wobble, skip and "dead zones" in steering
Poor handling during turns
Creaking or screeching noises
Rattling or metal-on-metal scratching noises, especially when driven over speed bumps or potholes
Consistent Quality
Quality is ensured by developing all parts to OE samples and using a 10-year anti-corrosion treatment. They are also manufactured and tested to meet OE standards for endurance, performance, and on-road testing. This includes million-cycle testing, which is the same procedure used on OE products.
The full Fahren portfolio encompasses a wide range of components including steering and suspension, ignition coils, water pumps and wheel bearing kits. All Fahren parts come with a 12,000 mile/ 12-month warranty. Should it be required, expertise is available via their technical hotline 03333 136 591. Find the parts catalogued on the F:Drive or MAM Autocat for same/ next-day availability from FPS. Alternatively, speak to your local representative  for full details.