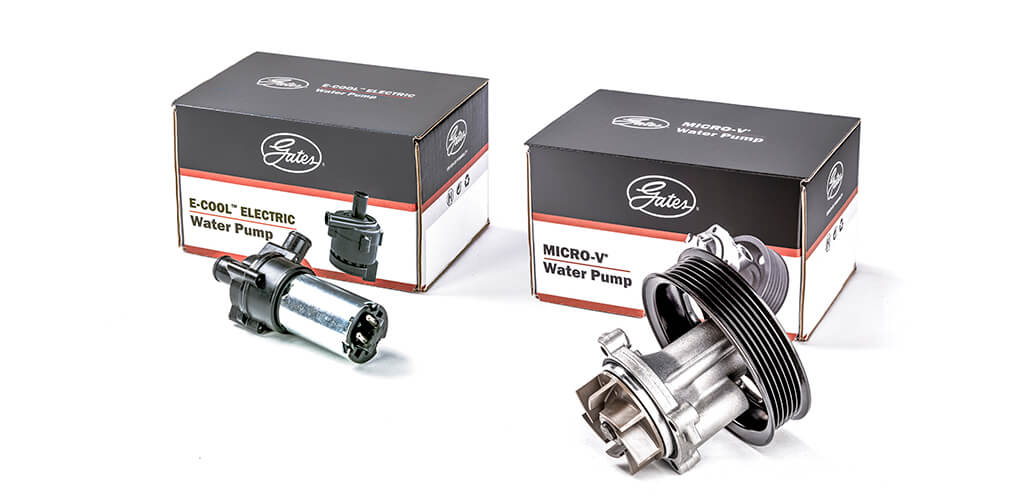 COOL PARTS. HOT OPPORTUNITIES.
---
12 Nov 2018
Category: Articles, Company News
As one of the world's largest manufacturers of belts and OE tensioners, Gates works closely with the engineering departments of leading car manufacturers to supply tailored solutions to powertrain components. The latest introduction to their water pump and heavy-duty drive belt range further demonstrates Gates' commitment to provide the automotive aftermarket with Original Equipment (OE) quality products.
MICRO-V® WATER PUMPS
There are some good opportunities in the water pump replacement market. Accessory belt driven water pumps are already a popular choice with vehicle manufacturers. By 2020, it is estimated that around 3.8 million hybrid cars will be joining the European car parc.
Micro-V® Water Pumps put distributors in good positions to take advantage of the growing market as they are individually boxed for applications driven by Accessory Belt Drive Systems (ABDS).
Gates has used its water pump manufacturing expertise to develop a range of products that improves on the quality of those units known to fail prematurely. Integrating the use of quality seals where common failures were caused by contaminants, Gates has resolved issues in some part numbers by uprating power specifications wherever an insufficient power rating has been found to cause the system to overload.
By doing this, Gates has increased build specifications and raised manufacturing standards for these units. With over 100 part numbers available by December and with plans to increase the number of references available as a premium manufacturer of water pumps, Gates is able to control manufacturing standards and quality.
By looking like, and performing as well as their OE counterparts, Gates Micro-V® Water Pumps provide strong profit opportunities for aftermarket distributors and reliable solutions for garages.
COOLRUNNER BELTS
Gates has developed the CoolRunner range of drive belts for vehicle and trailer-mounted refrigeration units. Traditionally, refrigeration unit maintenance and repairs were dominated by the OE networks.
The CoolRunner belts provide real alternatives for the temperature controlled maintenance market. This allows motor factors and technicians to generate new revenue streams. As installation is easy and confidence in the Gates brand is high, fleet engineers will be able to significantly reduce workshop maintenance costs.
CoolRunner belts match the most popular applications employed by temperature controlled fleet operators across the UK. With an initial range comprising 34 part numbers, they are easily cross-referenced with OE part numbers through GatesAutocat.
RELIABILITY AVAILABLE FROM FPS
Gates CoolRunner belts and Micro-V® Water Pumps are available from FPS via the F:Drive and MAM Autocat. For more information, please speak with your local FPS representative.