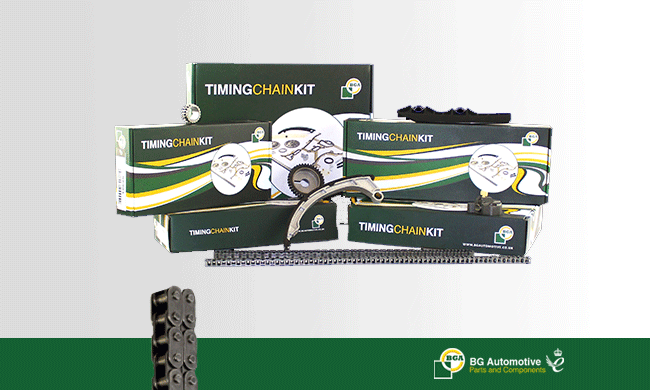 Components of a BGA Timing Chain System
---
05 Feb 2018
Category: Articles, Company News
Demand for timing chains has seen a significant growth in recent years as popular vehicle manufacturers have opted to integrate the chain system into their engines. The shift of interest towards chain systems across all makes and engine sizes has presented a new and exciting set of challenges for the aftermarket.
Did You Know?
There is a general misconception that a timing chain will last for the life of a vehicle. However, chains, sprockets and other components will actually stretch and wear over time. This is especially prevalent in vehicles that are poorly maintained and oil change intervals are not adhered to.
CRITICAL COMPONENTS OF THE TIMING CHAIN SYSTEM
The timing chain system comprises four critical components – the chain, guides, tensioner and sprockets.
Chain
BGA considers the timing chain as the "heart of the engine". Connecting the crankshaft to the camshaft, it controls the opening and closing of the engine valves.
Guides
Chain guides are used to keep the timing chain from vibrating.
Tensioner
Ensures that the timing chain is kept under proper tension.
Sprockets
Transfer the power from the crankshaft to the chain, to camshafts. It is also important to note that engines with variable valve timing (VVT) also require additional sprockets specifically for the VVT system to maintain the accurate timing required to function accordingly.
ALWAYS REPLACE ALL ASSOCIATED PARTS
When replacing one engine component, it is best practice to replace all associated parts. By doing this, the condition of the timing components are uniform to help optimise the service lifespan of the system.
Installers are now recognising the importance of replacing the sprockets with the timing chain, tensioner and guides (all in BGA's Full Kit (FK)). This change in purchasing habits has surfaced due to a greater understanding of the impact of sprockets:
Part repair can result in premature/instant failure
As the timing system is a precision system, failure of one part will compromise the others
Dirty sprockets (oil contaminated) will impede performance of other components
Hooked sprockets will damage the chain and severely limit its lifespan
As a result, BGA's Full Kit (FK) and Full Kit with VVT Sprockets (VFK) have seen a surge in installer demand.
BGA TIMING CHAIN KIT OPTIONS
Kit (K)
Chain, tensioner and guides
Full Kit (FK)
Contents of (K) plus sprockets, timing cover gasket, oil seal, feed pipe and bolts
VVT Kit (VFK)
Contents of (FK) with the addition of VVT sprocket(s)
QUALITY AND VALUE AVAILABLE FROM FPS
BGA timing kit prices reduced significantly by 26.8% following a price realignment exercise in the final quarter of 2017. With 280 references covering more than 6,000 applications, BGA kits offer replacement solutions for popular vehicle manufacturers including BMW, Audi, VAG and many more. Each BGA component is manufactured to meet or exceed OE specifications and vigorously tested to ensure utmost quality.
Catalogued on the F:Drive and MAM Autocat, BGA timing kits are available from FPS via same/next-day delivery. For more information, please speak with your local FPS representative.