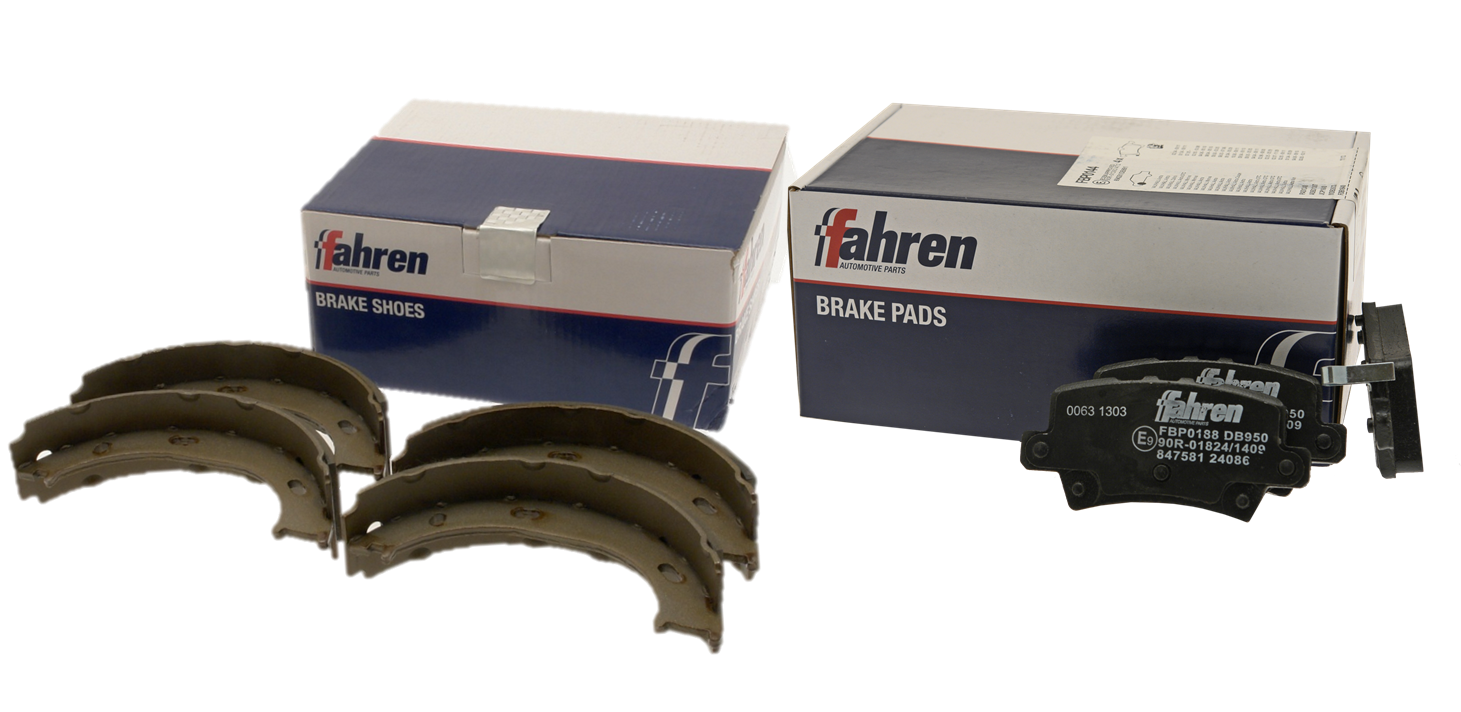 Brake into the Market with the new Fahren Braking Programme
---
18 Oct 2013
Category: Articles, Company News
Having recognised a growing need in the market for a quality range of fast moving, low cost braking products, Fahren has produced a new range that ticks all of these boxes. The Fahren braking range consists of 212 fast moving pads, covering over 5,000 applications, and 39 shoe references covering over 1,600 applications, and comes with a 1 year/12,000 mile warranty, whichever comes first.
Shoe application highlights include the Ford Focus 1.6 (98-05), Ford Transit 330 2.4 (00-09) and Vauxhall Astra 1.6 (95-11).
Brake pads are available for many popular vehicles such as the Renault Clio 1.2 (05>), Vauxhall Astra 1.6 (98-05), Ford Focus 1.6 (98-04) and Ford Mondeo 2.0 (00-07), to name a few.
Safety First with Quality for Less
Brake pads and shoes are safety critical parts, so while you may search the market for competitive pricing, you cannot afford to compromise on product quality. While Fahren represents a competitive option, it also maintains the highest quality and build. All pads and shoes are subject to rigorous tests and quality checks throughout the production process to ensure high levels of performance. All parts are manufactured according to ECE Regulation 90 (R90) which sets the standard for replacement braking products fitted to all cars first registered from April 2001. R90 testing ensures that front and rear braking performance matches OE specifications, reducing the possibility of importers sourcing low quality alternatives from outside of Europe.
The friction material used in Fahren brake pads is developed specifically for each application. Fahren pads are produced with an under-layer that dampens vibrations to prevent noise. It also prevents the transfer of heat from the pad to the brake fluid. This special material has a high bonding strength that sticks the friction material to the back plate. All Fahren pads and shoes are free from asbestos, lead and Cr6+.
For further information on the Fahren braking range, speak to your local FPS Representative.