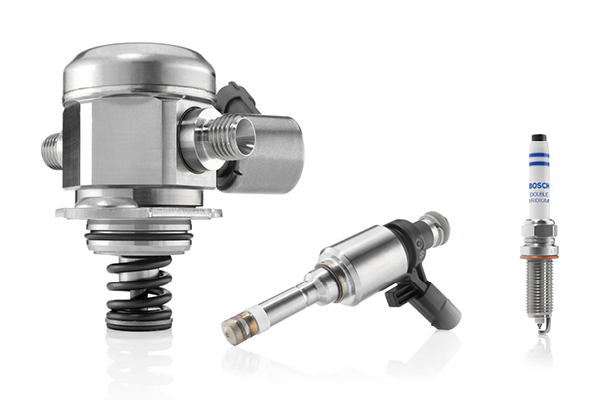 Bosch Sparks A Discussion on GDI
---
13 Sep 2019
Category: Articles
Many vehicle manufacturers are now using GDI systems to maximise fuel efficiency and lower exhaust emissions. GDI systems create the optimum air-fuel ratio for efficient combustion with a fuel injector in the combustion chamber to provide a high-pressure mist of gasoline which mixes with intake air.
What Bosch has Available
Bosch GDI components provide the basis for a cleaner and more economical power generation while accommodating the current engine downsizing trend. As part of their extensive range they offer quality high-pressure GDI injectors, pumps and high-performance spark plugs.
Highlights of the Range
0261500494 – GDI Injector for BMW 1 Series 1.6 (2012-15)
0261520141 – GDI Pump for BMW 3 Series 2.0 (2007-14)
0242240665 – Spark Plug for VW Beetle 1.2 (2011-16)
Identifying a Failing Spark Plug on a GDI System
Due to the accuracy required to ensure the fuel-air ratio is optimal, extra care also needs to be taken when replacing components in GDI systems, especially spark plugs.
Look out for the following signs of faulty spark plugs:
Problems starting the car
Engine misfiring
Higher fuel consumption
Lack of acceleration
Spark plugs used in GDI engines must be high performing to ignite the more-focused fuel delivery and not become fuel-washed by the high-pressure fuel spray.
As an OE supplier, Bosch can produce high-performance spark plugs that work optimally with their Bosch GDI fuel system. Their nickel-plated thread guarantees anti-seize, while the factory electrode gap allows for quick installation. High ignition reliability and excellent cold starting performance is guaranteed, even at low battery voltage.
Bosch GDI injectors, pumps, and spark plugs all have a 1-year warranty from the date of sale and can be found on the F:Drive for same/ next-day delivery. Contact your local representative for more information.