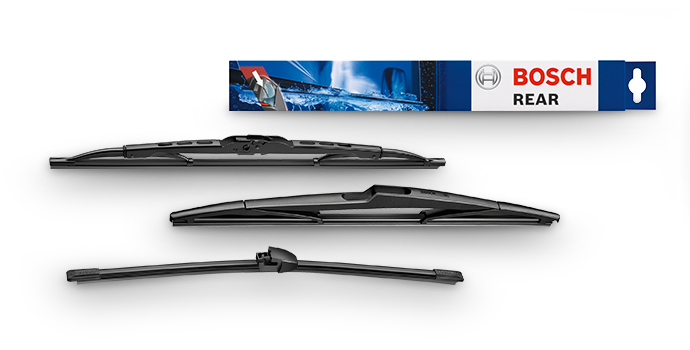 Bosch Rear Wiper Blades – A Clear Success
---
25 Jan 2019
Category: Articles, Company News
Bosch have been developing wipers for over 75 years and aim to secure their place as the market leader through their rapid increase in applications and innovative technology. The complete range ensures a quality wiper for almost any vehicle, with vehicle-specific solutions featuring conventional, plastic, or AeroTwin wiper-blade technology. The AeroTwin range is one you're likely to be familiar with due to its success in Auto Express's 'Best Wiper Blades 2018' evaluation, which recognised their 'perfect wiping action' and described them as 'the easiest to fit and most solid'.
Visibility is equally important through the rear window as the front, so it's good to know that Bosch's award-winning technology is applied to their rear wiper range.
Covering Every Possibility
These 8 new rear wiper blades are designed to fill a gap in Asian applications, which had been flagged by our 360° programme, and bring the range to a total of 114 part numbers. These plastic wipers resemble the shape and function of the vehicle manufacturer's original equipment as closely as possible.
Applications include:
H314 – Chevrolet Matiz / Spark (2005-2010)
H315 – Vauxhall Antara (2006>)
H316 – Chevrolet Spark (2009>)
H411 – Renault Koleos (2008>)
H317 – Hyundai i10 (2008-2013)
H326 – Hyundai Santa Fe (2012>)
H275 – Kia Sportage (2013>)
H318 – Hyundai i30 (2015>)
Crystal Clear Advantages
Buying Bosch guarantees the following:
Quick and easy fitting with a pre-assembled adapter
Smooth and quiet wiper operation
High quality, high coverage
Bosch offer their best wiping performance yet thanks to their patented PPP (Power Protection Plus) technology. This innovative wiper rubber with a patented coating is designed for perfect wiping performance, longer service life and gentle wiper action, while the wear-resistant wiper blade edge ensures a long service life. Special truncation of the cleaning edge and new two-component rubber eliminates the smallest particulars of dirt and water drops in one motion, preventing weeping and bleeding lines.
Available From FPS
All of the above parts are available from FPS for same/ next-day delivery, as well as a comprehensive range of front wiper blades. View the whole range on the F:Drive, or speak to your local representative for full details.