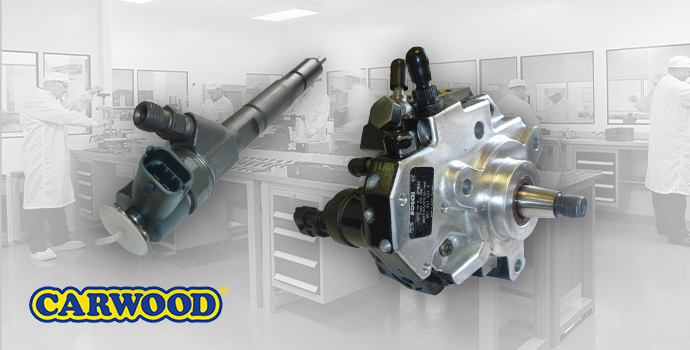 Avoid Wasting Time on Warranties
---
09 Jul 2019
Category: Articles, Product News
Diesel system problems are commonly misdiagnosed, and issues can be attributed to faulty injectors or pumps. As a result, 45% of all diesel injector or pump warranty claims that Carwood receives have 'No Fault Found'. In order to reach a 'No Fault Found' verdict, the returned unit must undergo thorough testing and pass specified performance thresholds on Carwood's OE test benches.
What could the issue be?
Carwood goes through various areas to check before assuming there's an issue with the new diesel injector or pump. Here are the most common diesel system issues that can lead to misdiagnosis:
1) Fuel rail
If the pressure relief valve exceeds its recommended pressure and is set off, the valve will not reset itself. This leads to low system pressure, vehicle non-start, and driveability issues. Alternatively, a fault with the fuel rail pressure sensor can cause the engine to cut-out and/or non-start which can be misdiagnosed as a pump fault.
2) High-pressure pump
Numerous issues can be caused by the pump not being fitted correctly. Be aware of the pump suction control valve not being programmed properly when fitting. Certain pumps require their parameters to be reset & re-programmed through the diagnostics equipment. Also, check whether the pump drive tang is lost and/or not fitted properly. Pump leakage of the replacement unit can be caused by pipes being refitted or connected incorrectly or the engine seals not being replaced where required.
3) Pre-supply pump
Insufficient pressure from the in-tank supply pump can cause a generic fault code for low pressure, leading to an incorrect diagnosis of a high-pressure pump failure.
4) Electrical system
Faults in the wiring loom from the ECU to the injector plug can be caused by vehicle age and/or engine heat. Also look out for damage caused by the installer to the electrical terminals in the connectors. When using a power probe, the terminals can be pushed apart causing damage to the electrical connections.
5) Injectors
Issues can be caused when new correction codes are not inputted when replacing. Check whether the old sealing washer was removed with the old injector. If it wasn't, this can cause combustion related faults. Additionally, over or under torque of the clamp when installing can cause deformation of the seal washer and running faults.
What to do about it?
Carwood recommends the following diagnostic procedure if the On-Board Diagnostics (OBD) is showing a diesel system fault:
1) Assess fuel quality. Check biodiesel levels. Check the fuel filter for the presence of water and/or debris contamination.
2) Check the pre-supply pump – does the supply pump offer enough delivery volume and pressure to the high-pressure pump?
3) Check injectors – perform an injector leak-off test to indicate any potential injector pressure loss.
4) Check the pressure relief valve in the fuel rail. If the pressure relief valve has been activated, it will not reset and must be replaced.
5) Check the high-pressure pump. Using false actuator kit and the live data from diagnostics equipment to check operating pressure.
Electrical terminal connections in the plugs should be checked at each stage of diagnosis to ensure no electrical connection faults.
Before returning a Carwood injector or pump for warranty, Carwood encourages installers to call their Technical Helpline at 0844 576 2524. View the F:Drive or speak to your local FPS representative for more details on the range.