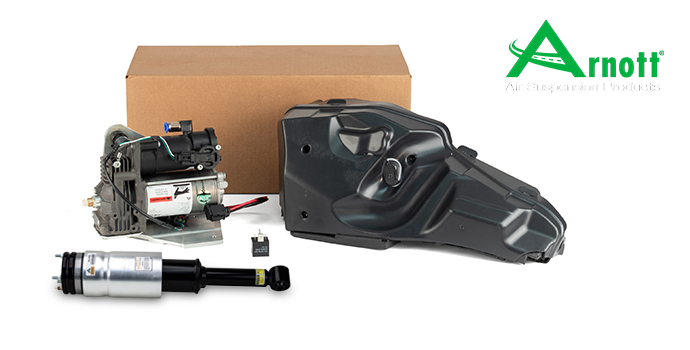 Arnott's Air Suspension – New and Improved
---
25 Jan 2019
Category: Articles, Company News
Recognising the growing market for air suspension parts in mid-range and lower vehicle models, FPS has increased the range of Arnott air suspension products. This move is reflective of recent figures showing the number of vehicles in the UK car park with air suspension systems rise to almost 5%.
These references include the P-2815 compressor and AS-2809 air strut for Land Rover Discovery 04-09 as well as air springs for the most popular Mercedes models: A-2724 E Class 05-09 and A-2596 GL and ML 05-11. Both the P-2815 and A-2724 have been redesigned for ease of fitting and to offer motorists an improved driving experience.
P-2815 for Land Rover Discovery 04-09
P-2815 has been re-engineered and is designed to replace the problematic Hitachi OE compressor. This Arnott air supply unit is built to OE specs and includes a bracket and cover to easily replace the OE pump and cover. This new compressor includes an integrated dryer, new relay, thermal overload protection, hoses, and fasteners. It even comes pre-wired for fast plug and play installation. The compressor runs quietly due to the plastic protection cover and noise reducing foam, as well as vibration dampers.
A-2724 for Mercedes E-Class 05-09
Arnott has also redesigned their air spring A-2724. By eliminating the need for the external reservoir, the installation time is reduced from 7.5 hours down to 0.5 hours. The air reservoir is integrated into the air spring, meaning that replacing in pairs is a requirement. The Arnott units go beyond matching the performance of the OE part, they are more reliable since the lower mounting point has been strengthened to counteract the weak point in the OE unit.
For Your Information
Contrary to popular belief, air suspension products have a lifespan of 6-10 years due to the degradation of the rubber. The compressor is built to last and fails mainly due to external causes, such as a leaking air spring, causing the compressor to burn out or dirt/water ingress in the air inlet tube.
As with all suspension products, Arnott recommends replacing air springs and struts in pairs. Be aware that this is mandatory for some applications, such as A-2724, to ensure the system is functioning correctly.
Arnott has updated their warranty period to offer a 2 year warranty, effective from 1st January 2019. Arnott's automotive air suspension products are warranted to be free from defects in materials or workmanship for the warranty period from the date of purchase.
An extensive range of Arnott products is available from FPS for same/ next day delivery. Order via the F:Drive or speak to an FPS representative for more information.